Boffins at Finnebrogue beat Germans in race for world's first "cancer-free" Frankfurter – just in time for Oktoberfest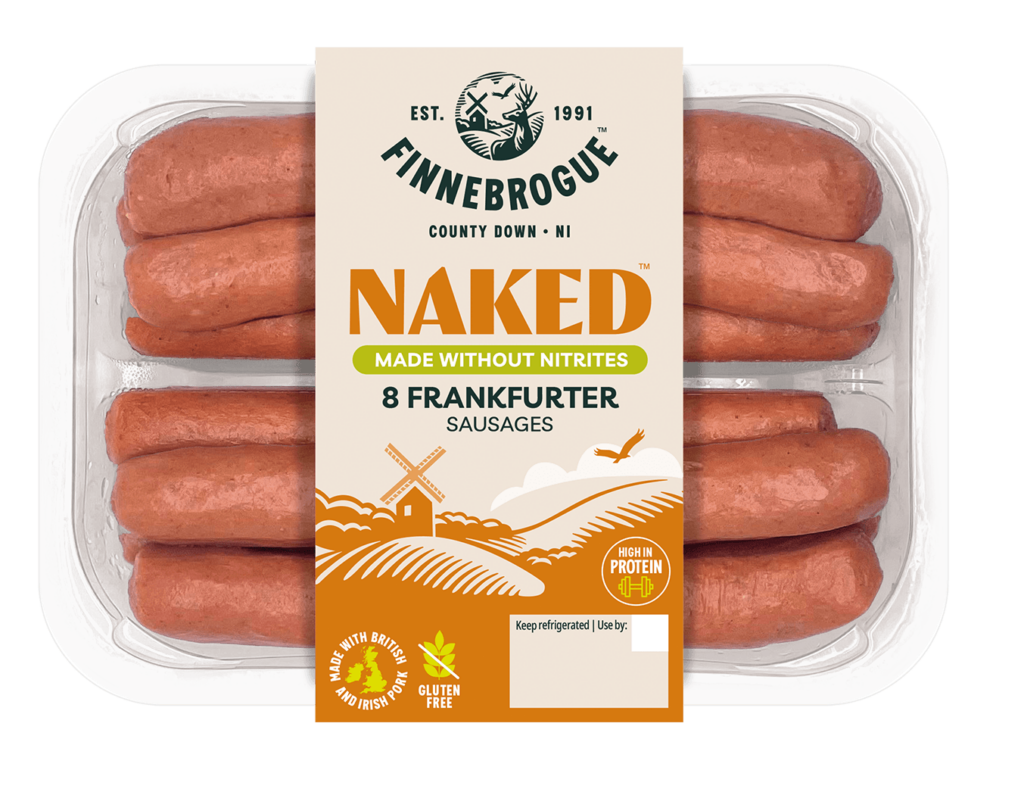 British food boffins have beaten their German counterparts in a race to produce the world's first frankfurter to be made without cancer-causing chemicals.
The frankfurter, Germany's favourite sausage, is traditionally packed full of nitrites, which the World Health Organisation says cause bowel cancer.
But now boffins at the UK food firm Finnebrogue, already famed for pioneering Naked Bacon, have developed a way of making a delicious German sausage in the frankfurter style, but without the chemicals that are known health risks.
The Finnebrogue Frankfurter is set to launch in time for Oktoberfest this week, in a major embarrassment for the much celebrated German meat industry which for decades has insisted it not possible to make a safer frankfurter.
The British banger breakthrough will be on sale in Asda, Morrisons and Ocado across the UK – but will not currently be on sale in Germany.
Nitrites are used to cure the pork and keep it pink, providing the traditional red colour often associated with German sausages. But when they are added to meat and the meat is then cooked and ingested, they produce "N-nitroso" compounds (or nitrosamines) in the stomach.
These nitrosamines have been linked to bowel cancer by the World Health Organisation, which estimates 34,000 cases of the deadly disease every year are linked to diets high in nitrite-cured processed meats.
Instead of using nitrites, Finnebrogue has adapted the technology it uses to make nitrite-free Naked Bacon – Britain's biggest brand of bacon – and produced a delicious frankfurter with all the same smoky flavour and "snappy" bite as the traditional German equivalent.
A landmark study in the Nature journal last year found that mice fed a diet of frankfurters containing nitrites developed 75 per cent more cancerous tumours in the duodenum than mice fed nitrite-free pork.
Dr Brian Green, one of the authors of the report, said: "The results from our study clearly show that not all processed meats carry the same risk of cancer and that the consumption of nitrite-containing processed meat exacerbates the development of cancerous tumours."
The German Federal Institute for Risk Assessment has confirmed the risks that nitrite-cured meats like frankfurters pose to human health, saying they produce "cancer-causing substances" and that "nitrite levels should be reduced as far as possible".
It is estimated that the Germans eat 650 million frankfurters every year. German style sausages are particularly popular during Oktoberfest, the annual beer festival which attracts over 5 million people every year.
Finnebrogue chief strategy officer Jago Pearson commented: "So many of us love a Frankfurter but choose to avoid them because the presence of nitrites. Now sausage lovers up and down the UK can enjoy a delicious German-style banger without these dangerous chemicals."